Welcome to Siddhi Vinayak Polytechnic
Siddhi Vinayak Polytechnic is a pioneer college well established in the year 2009 to promote educational system and to impart latest technique instruction. The college is recognized by Rajasthan Government and is affiliated to the Board of Technical Education, Rajasthan. The college is also recognized by the National Council of Teacher Eduacation (NCTE), Jaipur. The college has highly qualified and well trained staff that impart learning skills to the trainees with dedication and zeal. The College has all the facilities for this programme. Besides, eight compulsory papers, the college offers five options, namely Population Education, Educational and Vocational Guidance, Elemantary Education, School Library, Measurement & Evaluation, Physical Education and Measurment and Environmental Education. In papers V and VI the college offers choice of 10 subjects namely, Teaching of English, History, Hindi, Sanskrit, Economics, Social studies civics, Chemistary, General Science and Commerce. The College has highly equipped separate laboratories in social studies science. The psychology lab is equipped with modern psychology test and material. The computer lab has new computers, printers and scanner exclusively for the benefit of the students in the college. The Audio-Visual room is equipped with Television, CD Player, Projectors, Maps, Models, Tape-recorder, and CD's of Educational films etc. The college library is fully computerized and sufficient to cater the needs of students. The library is equipped with Reference books, Textbooks, Commission reports, Journals and magazines. The library also provides different national and local daily newspaper in English and Hindi. There is a hostel for girls with all the facilities to meet the needs of the students. Proper care is given to the students who are provided with ventilated rooms and hygienic food in a homely atmosphere.
Engineering Diploma Programme
This programme is an ideal and the only option for those who are (i) desirous of pursuing some course in technical education, immediately after their secondary school examination (Xth Class) and (ii) who wants to pursue for technical education at a very affordable price.It is truly in the spirit of 'catch them young' Main benefit of the programme is 'learning by doing things' of their own. This programme is having an extra in built flexibility. Those willing to pursue further in technical education can have a lateral entry in 2nd year of B.Tech course, soon after the completion of this programme, others can be very well absorbed in many jobs available at almost all the industrial units, of private as well as public sector mainly due to the practical learning of the programme.
At SVC this programme affiliated to Board of Technical Education, Jodhpur (Rajasthan) is available in the following streams:
1. Computer Science
2. Civil Engineering
3. Mechanical Engineering
4. Refrigeration & Air Condition Engineering
5. Electrical and Electronics

Diploma holders work as supervisors which is a link between workers and officers i.e. interface between two levels of management hence they get a better chance to learn more of engineering & management skills.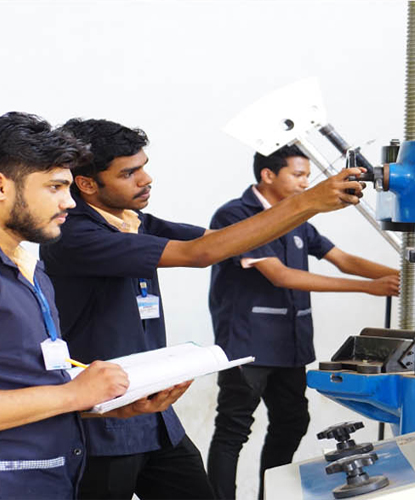 Seats in Polytechnic Course
Minimum Qualification - Any student who has passed secondary school examination are eligible for admission.
Details of total seats in Polytechnic
| | |
| --- | --- |
| As per the rules of Board of Technical Education, Jodhpur | 255 Seats |
| Management Quota | 045 Seats |
| Total Seats | 300 Seats |